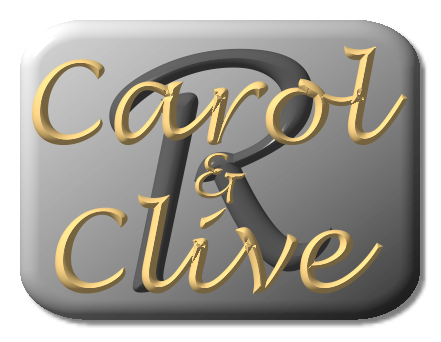 Clive was introduced to photography at the age of 8 in 1956 with a Kodak Baby Brownie (with a "B" button) and as soon as the 127 film, probably a Kodak Verichrome Pan, was finished, he was introduced to a darkroom by his Dad, Stanley; where Clive listened to the "fumbling and mumbling" which was an integral part of developing films until the Paterson Super System 4 Developing Tank were introduced in 1968 and were still available in 2019.
The next evening the negatives (black and white in those days) were printed and Clive experienced for the first time the magic of seeing an image appear on a plain white piece of paper in a dish of clear, funny smelling, liquid under the red (amber) glow of the safe-light! That was it... Clive was hooked!
That experience has remained with Clive all through the years and even in today's digital world: one of Clive's favourite pastimes is taking film, using equipment he couldn't afford, when it was new, and developing the results at the kitchen sink; he would like to print everything traditionally, "if only there were more hours in the day and more days in the week"! He thought when he retired in 2018 he would have more time, fat chance!
Clive scans his films using, mostly an Epson V600 Photo and now he has managed to load Windows XP Pro onto a relatively modern computer a Minolta Dimage Multi II, (using an Adaptec "USB2exchange" to connct the SCSI scanner to USB2; which is not supported by more recent versions of Windows) despite having tried several non-OEM scanning software packages, Clive has returned to using the OEM software as being the fastest and most intuitive; "and works for me"!
For many years Carol and Clive used Ulead PhotoImpact and still do for some functions However most of their image enhacement is done with ACDSee Pro with the free version of Google NIK suite "Silver Efex Pro2" for monochrome. Photoshop: too expensive and too complicated, unless it is used full time to earn a living.
As Clive became more ambitious photographically, probably to the detriment of his school work, he moved through a series of cameras, some good, a few less than perfect, these links are in chronological order of use:
Unfortunately Clive failed to see the importance of photographing all his cameras and lenses; here he acknowledges the dedication of a few web masters to record photographic equipment from the past.
Clive makes no attempt to use their work as his own and merely links to their web pages, in admiration of their foresight.
... and now for lenses:
Over the years Clive has tried / owned / sold and occasionally broken more lenses than he cares to list; Most of his early cameras had fixed or the Standard 2 inch / 50ish mm lens to suit a 35mm film cameras
Below is a link (which you may not be able to see) to my Flickr image of the two Vivitar lenses to which Clive "rationalised" his film camera system with a Ricoh KR10 Super; when he stupidly sold his first two Nikon Fs and lenses! What was he thinking about... madness! However they were very heavy to take backpacking!
Below again is a link to the image of several of the Tamron Adaptall(2) lenses that Clive still prefers; however a couple of significant lenses are missing: a Tamron SP F8 500mm Mirror and a Tamron SP f6.3? 200-500mm zoom. Many of which have been sold on now, rationalized down to a 28mm (02B), SP 90mm (52BB), SP 28-80mm (27A), SP 60-300mm (23A) and recently bought as "spares or repairs" and "defungussed" an SP 35-210mm (26A) with adapters for 49mm Pentax and Nikon. Whilst Clive was at college he bought two of the original Adaptamatic lenses: a 28mm f2.8 and a 300mm f5.6; both of these were stolen together with his Asahi Pentax Spotmatic, shame but he was more sad to lose 50% of the films that he had taken on a round the world trip. He couldn't afford to have all the films processed at the same time and they were still in the camera bag, when it was stolen
This is a link to the Sigma Auto Focus lenses that Clive prefers to the Tamron equivalent that tend to be "a bit floppy"! These he still has and uses with a couple more, for both film and digital as required. However the 100-300mm Sigma is not as robust as the Nikkor 80-400 AF VR and has been refurbished several times.
And lastly below is a link some of the Nikkor lenses that I own or have owned.
When the Nikon1 system was dicontinued the preCarol and Clive adopted the Nikon 1 system, for weight and size reasons. They first aquired an Nikon1 J5 to use for both still and videography, but it doesn't have a socket for an external microphone and suffers from severe wind noise. Clive then found an N1V2 (Nikon1 V2) kit very reasonably on eBay from LCE (London Camera Exchange), Lincoln, UK; with 1Nikkors 10-30mm, 30-110mm, and a dedicated flash (nb.the hot shoe on Nikon1's is non-standard although hot adapters are available.) The N1J5 came with a Nikon FT-1 adapter, so that all they're F mount lenses may be used. However the day arrived when the N1J5 had to go and was replaced with an N1V3 with 10-30mm PD zoom. They have accumulated, several 1Nikkor lenses, including the only Nikon power zoom for video work a 1Nikkor 10-100mm PD Zoom, two 1Nikkor 10-100mm VR lenses (one each) Carol tends to use the N1V3 with one 1N 10-100mm, because it is small, light and she prefers the big screen. When Clive doesn't want to carry a camera, the N1V2 with the other 1N 10-100mm gets put in his pocket.
Following in his Dad's, cinematography, footsteps Clive decided to try video, hence the purchase of a Nikon 7100, an interesteing experiment but not entirely successful; similarly with the Nikon1's; they may be used for video with big lenses with the FT-1 adapter but non of these cameras really follow focus. In the end Carol told Clive to "get a proper video camera"; so a Panasonic HC-WX70M joined the kit, very reasonably (from Wessex Photographic, in Weymouth, UK), together with a Cayer proper "video" tripod (from Amazon) both of which have performed really well; especially the tripod after a disappointing experience with a Manfrotto "fluid damped" video head, that cost almost the same as the complete Cayer tripod. Most of the videos in the "Our albums" / Google Photos wer made using this partnership of Digicam and tripod.
If you get into "Our albums" it is possible to find images taken with many of the above cameras and lenses.
In 1967, after a year at "Eastleigh Tech" to obtain the required "O level" exam passes, Clive, enrolled at the Bournemouth and Poole College of Art and Design, and for the next three years "studied" photography.
After years of anticipation and advice to "go to college and learn to do it properly", from his father and life long friend, mentor and self taught professional photographer Bob Sollars, what a disappointment and disillusionment "college " in the late 60s turned out to be! A waste of 3 years!